An accessory, the 8" manual vertical milling table (P/N 1185), is shown attached to the table of the single-axis CNC machine slide (P/N 6552).

Sherline Products, Inc. manufactures a complete line of miniature lathes and mills. Over the past 30 years, a very large line of accessories has been developed to fit these tools. Many of them can be used directly on the industrial slides and components that share the same tables and T-slots. Links to the instructions for each accessory, when available, are included in the list below. Scroll to the bottom of this page to download the complete list of Sherline accessories that complement the industrial tool line.

The large line of accessories available for Sherline Industrial slides and spindles significantly enhances their utility.
---
Shown below are just a few examples of accessories manufactured by Sherline to fit their machine tool line. These items can be used with the industrial line as well, should your application require it.
STEPPER MOTOR MOUNTING KIT
P/N 6500. This kit allows mounting of a stepper motor to a Sherline headstock in place of the standard DC motor. (Click on linked part number for details.)

The kit includes a custom bracket that supports the motor and the standoffs that attach to the mounting bracket. Also included are the standoffs, motor mounting bracket, 15-tooth motor pulley, 30-tooth spindle pulley, toothed drive belt and mounting hardware. Not included are the headstock and stepper motor (P/N 67127), which must be purchased separately. (A 10-tooth drive pulley is also available for special order for a slower 3:1 drive ratio instead of the standard 2:1 ratio. Call for details.)



---
ROTARY TABLE
Sherline's rotary table (P/N 3700) is one of the many accessories that could be used on any Sherline Industrial slide or table. Its 2-inch height and 4-inch diameter make it appropriate for providing an accurate rotary function in a small area. A CNC-ready version is also available, as is a complete, stand-alone CNC rotary indexer based on the same table (P/N 8700).

We also offer all of our rotary tables with a Nickel-Teflon coating. The coating gives the table a rust-resistant surface that is hard and has added lubrication qualities. The coated rotary tables have a 15/32" (.469") through-hole and come with a chuck adapter that has a 3/4-16 thread for the chuck and a 5/8-24 thread for the rotary table.



---
CHUCKS
Sherline 3-jaw and 4-jaw chucks thread directly onto the 3/4-16 thread of the Sherline industrial spindles. They can also be clamped to the tables as work-holding fixtures. Drill chucks can be held in the #1 Morse internal taper of the spindle.

ER-16 chucks are available for the optional ER-16 spindle on all Sherline IPD headstocks.

Interchangeable chuck jaws.

Self-Centering and Indedpendent Jaw Chucks: Sherline offers a line of 3-jaw, 4-jaw, and drill chucks. The 3-jaw and 4-jaw chucks are manufactured in Sherline's own plant and have a 3/4-16 spindle thread to fit most of the Sherline Industrial headstocks. The 3- and 4-jaw chucks are available in either 2.5" or 3.1" diameters. The 3-jaw chucks are self-centering. The 4-jaw chucks are available with either self-centering jaws or independently adjusted jaws. The chuck jaws are reversible to hold larger parts. The standard 3-jaw and 4-jaw chucks can be ordered with an electroless Nickel-Teflon coating. The coating is applied to help prevent wear and corrosion and significantly improves the life of the chuck.

ER-16 Chucks: We also offer chucks with 22 x 1.5 mm threads, so they can be used with the optional ER-16 spindles. The ER-16 chucks are 3.1" diameter and are available with 3-jaw and 4-jaw self-centering jaws, or with independently adjusted jaws.

Drill Chucks: The drill chucks are equipped with a #1 Morse tapered arbor that can also be held in the headstock and secured with a drawbolt. The drill chucks are available in 5/32", 1/4" and 3/8" sizes. #0 Morse arbors are also available for the drill chucks for use in the tailstock of a Sherline lathe.

Interchangeable Chuck Jaws: You can order interchangeable jaws for delicate parts that require gripping with softer jaw materials. Other operations require chuck jaws that do not transmit particles of rust to the part being held. To accommodate these special circumstances, Sherline now offers 2-piece chuck jaws with interchangeable top jaws made from special materials, and bottom master jaws. In place of the standard hardened or optional unhardened ("soft") steel 1-piece jaws, these new top jaws are .600" tall and come in soft materials like Delrin, Teflon, and Nylon, plus harder but non-rusting materials like brass and aluminum.





Back to top
---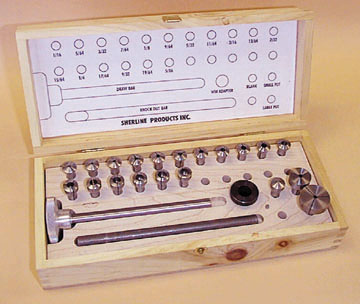 Deluxe WW collet set in finger-jointed wooden box
COLLETS AND END MILL HOLDERS
WW COLLETS-Sherline manufactures its own line of WW collets. The collet adapter fits in the #1 Morse headstock taper. Collets are drawn into the collet adapter with a drawbar inserted from the back of the spindle. WW collets are open all the way through to allow long material up to the size of the collet to be held through the spindle. Collets go from 1/16" to 5/16" by 64ths or from 1.5mm to 8mm by .5mm increments. Shown above is a deluxe inch collet set with a selection of 17 collets (14 in metric set), drawbar, knockout bar, blank collet and collet pot chucks in a custom wooden box. Collets are also available individually.

MILL COLLETS-Mill collets are also available in sizes from 3/32" to 1/4" or 3.0mm, 4.0mm and 6.0mm. Unlike a WW collet, mill collets do not have a hole through the center. They are made to hold single-ended milling cutters very accurately on center.

ER-16 COLLETS-Sherline Industrial spindles can be ordered with a nose that accepts ER-16 Collets. Although Sherline Industrial does not offer ER-16 collets or nuts for these spindles, they are available from any major industrial tool supplier. Sherline uses the 22 x 1.5mm metric thread. Chucks are available for this thread. (See the Chucks section above.)

END MILL HOLDERS-These accurately machined holders thread onto the 3/4-16 spindle thread and will hold double-ended end mills. The 3/4-16 internal threads are single-pointed during a multiple-step CNC machining operation to assure concentricity. The most common size is 3/8", but other size end mill holders are also available to hold 3/16", 1/4", 5/16", 6.0mm, 8.0mm and 10mm end mills. A set screw tightens on the flat of the end mill to secure it in place. Keeping several end mill holders on hand with cutters already mounted is like having a quick-change tool system, as the holders can be quickly threaded onto or removed from the spindle.
Back to top
---
OTHER SPINDLE NOSE TOOLS
Sherline offers a large selection of tools that would be used in the spindle of a vertical mill. Below is a list of some of the tools that might be useful in your applications. All have a #1 Morse taper and are held in the spindle with a drawbolt. (To see an illustration and read more about each tool, click on the linked name.)
---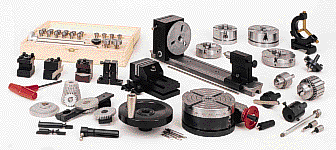 OTHER ACCESSORIES
A large selection of tools, collets and work-holding devices have been designed to compliment the miniature machine tool line. For a complete list of accessories, see Sherline's "Accessories" page at Sherline Accessory Instructions. In it is a list of links to the instructions for each accessory. You can read about each item in detail and find out how it is used. Some of the work-holding fixtures that might be of use to you are listed below, but the list is by no means complete yet.
To download a list for Sherline accessories that complement the industrial tool line, click on the link below or on the Parts List link in the sidebar menu.
---