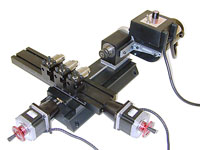 This small CNC fixture, set up to do multiple operations, is an example of the kind of quick tooling you can put together with components from Sherline's regular and industrial line of components. (Click image to view larger photo.) Three tool posts hold different cutting tools or chucks while the DC motor driven, variable speed spindle with an ER-16 collet holds the part. Sherline offers manual and CNC slides, round, flat bottomed, and dovetailed spindles and a variety of components to fit them. We do not make large fixtures, but if the movements you need are in the range of 14" or less and you want accuracy and repeatability at low cost, you've come to the right place. Click here for more views of the above fixture. PHOTO 2, PHOTO 3
Low Cost, Light Duty Precision Machine Slides for Small Jobs
Most precision slides are made in low quantities and are, therefore, quite expensive. Sherline Products Inc. has produced a line of precision miniature machine tools since 1974. Many of the components of the Sherline lathe and mill such as the spindle/motor/speed control and the machine slides lend themselves well for use as part of production tooling. For years we have seen people re-tasking all or part of Sherline machine tools to build specialized tooling from the components. Engineers, designers, prototype builders and inventors have found that there is no need to "reinvent the wheel" when it comes to designing production components. Those who have discovered Sherline's components are impressed with the versatility, accuracy and low cost of the line. The industrial line featured on this site takes our most popular machine tool slides and components and adds more versatility for use in general tooling applications. The modular nature of the components allows you to use them as kind of an "Engineer's Erector Set" for your small tooling and motion needs. The phenomenal growth of both Sherline's tool line and the Internet have combined to offer a great opportunity for you, the designer.
Two ways Sherline keeps costs so low on these components
One way is by producing items in quantity. We have invested a lot of time and tooling over the past several decades to develop and perfect our commercial tool line. We make our own chucks, handwheels, leadscrews, machine slides...everything needed to produce small lathes and mills. We purchase motors in quantity and have designed our own custom electronic speed control. During that time, we have been aware that many of our components were purchased by designers and engineers for use in special tooling, but the advertising cost of reaching such a disparate group was prohibitive.
The second way to keep cost down is by using the Internet to market our line. Most of our industrial customers in the past were those who were already aware of Sherline tools through their hobby interests. By marketing these components directly to customers by way of the Internet, we save the cost of advertising and the cost of printing and mailing an expensive color catalog. The industrial component line is directed toward customers who already know what they are looking for, know how to use it and also know a bargain when they see one.
These savings in quantity purchasing and low advertising costs are passed on to you. If you have been diligent enough to find our site, you have found yourself an excellent source of high quality components at very low cost.
Customized for versatility and supported by a huge accessory line
Sherline's chucks, XY and XYZ bases and motor/speed control units have long been a popular source of components for machine design. Now we have taken those components and used them as the basis for a complete line of interrelated parts specifically for small industrial tooling design. We have beefed up some components and modified designs on others to make them usable in more ways. Bases have been redesigned to allow for easy attachment to flat material.
In addition, the Sherline tool line includes the world's largest selection of machining accessories made by a single machine tool manufacturer. That means you have a large choice of components such as vises, tool holders, chucks, collets and adapters that will fit the spindles and T-slots of the Sherline industrial components. (For a complete description of all the accessories available to complement your Sherline industrial components, see Sherline's main web site at www.sherline.com. The accessories page can be accessed directly at Sherline Accessory Instructions.)
A growing line
Much like a full-scale building block set, these components can be combined in many ways to produce all kinds of clever production tooling. We are always on the lookout for new ways to make our components more usable. If you have a special need that cannot be met by the components you see here, please contact us. If we feel your request has enough commercial potential to make it feasible to put it into production, we will try to add it to our line. The fluid nature of Internet advertising makes it easy to add new things to our site at any time without having to print a new catalog.
High quality and Made in the U.S.A.
These components are not a copy of someone else's design. This is a complete line of components designed to work together using parts and processes that have been developed and refined for more than a third of a century. We make everything in our own facility in Vista, California. Because we are new in the industrial machine slide and spindle market, we may appear to have "come from nowhere." However, the basic design concept for these precise, rigid components was developed in the late 1960's and has been produced exclusively in the United States since the early 1970's. Sherline has grown to the point where our manufacturing capability is now large enough that we can produce and support an industrial line in addition to our well-known precision miniature machine tool line.
Being made right here in the U.S.A. means fast shipment and delivery. In most cases we ship within 24 to 48 hours of your order. Making all our own components gives us total control over our stock. If we run out of something, we make more immediately. No long waits for parts to be shipped in from overseas.
What about size?
Our specialty has always been products near the smaller end of the size range. We do not make large parts. However, if you need to develop ways to produce precise position control over movements of about 4 to 13 inches or less, why pay for more capacity than you need? The versatility of our system is unmatched, and the low cost of our components will amaze you when you compare them to others now on the market.